About the Probono Service
Probono service: on-demand support for your grantees
This service enables foundations to offer high-quality, on-demand support to your and globl portfolio of grantees, without red tape, but with full cost and quality control.
Grantees of participating foundations can consult experts for free and without red tape. They can get immediate help for any pressing organizational concern. Consultants are then paid by their foundation via the Nonprofit Builder.
On demand

: can book a preliminary talk with a consultant of a suitable expertise and further book more consulting hours if needed.
No red tape or administrative burden

: foundations can approve additional hours by email so they have cost control. They can track all ongoing support via an online dashboard. Consultations are billed on a convenient quarterly basis. Grantee satisfaction and impact are systematically evaluated.
Global, multi-lingual, and trustworthy

: All experts are vetted and known to provide great services. They can work online in English, French, Portuguese and Spanish, and cover all areas needed by your grantees.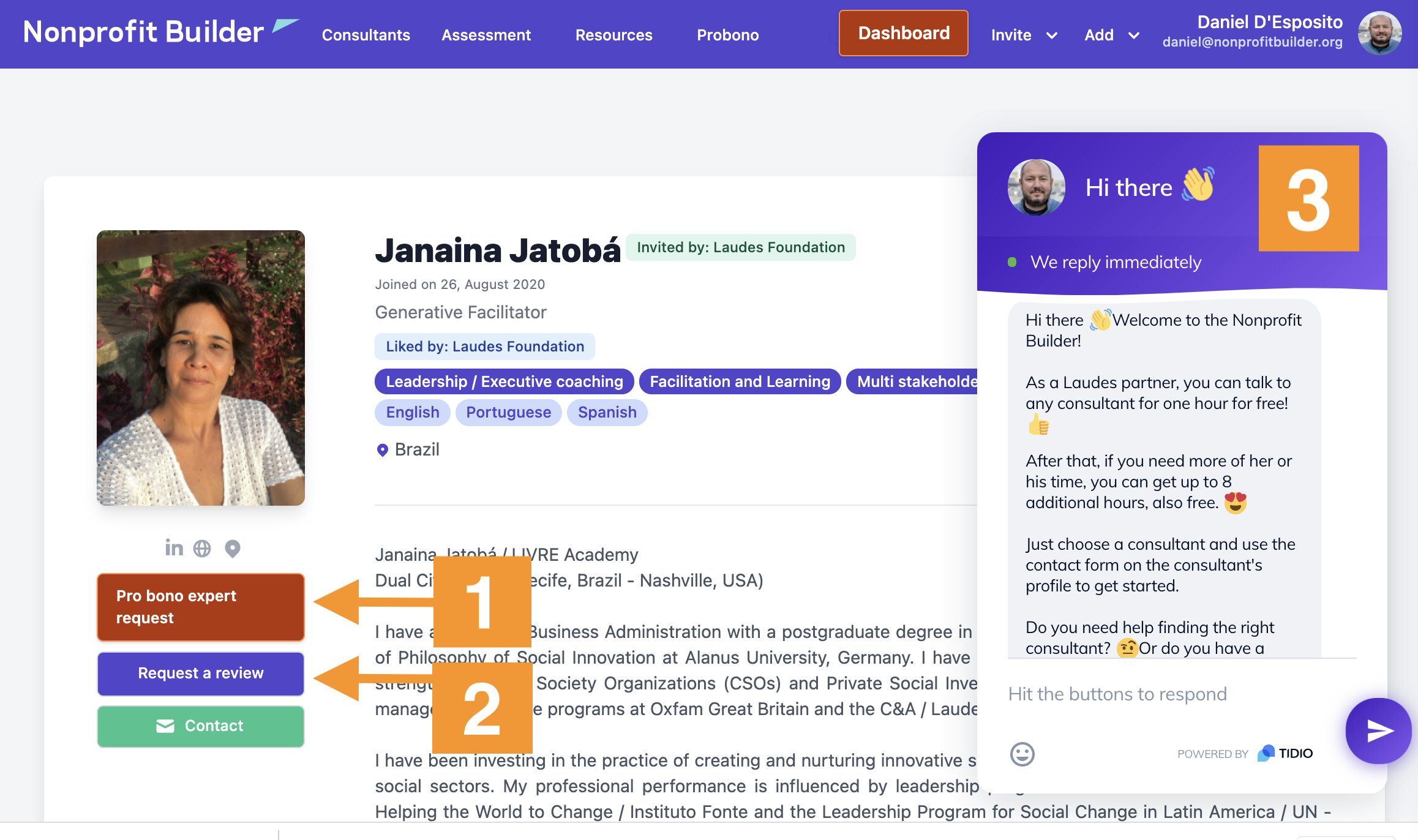 1

.

Grantees can easily book a consutation with an expert of their choice

2.

We systematically assess grantee satisfaction and impact

3.

We offer Live Chat to advise your grantees on which consultant to choose
What problems this innovative service allow you to avoid?
Having to sign retainers and contracts with multiple providers for services you may never use.
Your existing consultant pool is not diverse enough to service your gloibal portfolio of grantees.
Delays in getting your grantees the support they need right now.
You are bogged down with time-consuming due diligence and contracting for what are very small contracts
Pro Bono service is available to all foundations with a full foundation-level membership.